Home

/

Bostik 6S Anti Mould Silicone Cartridge
Bostik 6S Anti Mould Silicone Cartridge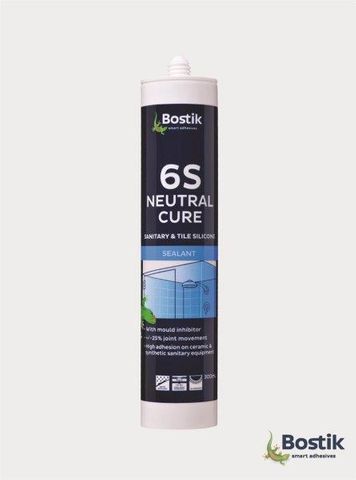 Stock Level
In Stock
In Stock
In Stock
In Stock
In Stock
In Stock
In Stock
In Stock
In Stock
Description
20 Tubes Per Box

PLEASE NOTE : LIMITED STOCK OF THE FOLLOWING COLOURS AS THEY ARE BEING DISCONTINUED.
SANDSTONE

20 Tubes Per Box

Bostik 6S is a one component, non –flowing, NEUTRAL cure, MID modulus silicone sealant. It cures by absorption of atmospheric moisture to form a flexible and durable elastomeric sealant.

Features:
Bostik 6S contains an effective fungicide, to reduce the growth of mould and mildew. Because it is a neutral curing system, it is more pleasant to work with particularly in a confined space. It also offers excellent adhesion to powder coated metal.
The thixotropic nature of this product ensures that it will not slump in typical construction joints.
Meets the standard of NZFSA – C82 (Titanium / off white).

Recommended Uses:
Bathrooms,
Fibreglass Spa Units,
Shower screens,
Ceramic tiles,
Tiles and grout areas. (for Granite, Marble and some porous stones, use / refer to Bostik 5CLM data sheet)
Around edges of kitchen bench tops,
Edges of splash backs (*Not to be used on the back of splash backs, refer to Bostik V:60)
Cool Rooms.
Downloads